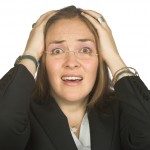 Have you ever found yourself pondering over what to do about a situation, taken advice from others around you, only to find that you are then even more fearful of making that change?
Quite often, other people may think they have your best interest at heart but they are actually projecting their fears on to you.  This can then make you doubt whether you should make that change.  An example being, friends and family may tell you that you should stick at a job that you are unhappy in because at least you have a job and persuade you that you won't get anything else.  You then take on board their fears and they become your fears and you start to convince yourself that you can't do any better.
You often see this happening with parents unintentionally projecting their fears on to their children.  If you have grown up in this sort of environment, chances are as you get older, you will continue to absorb other peoples' fears and make them your own.
So how do you break the cycle?  When you are faced with having to make a decision, whilst it is good to get advice from family and friends, look at where they are coming from with the advice.   Are they projecting their fears on to you or are they totally unbiased?
Just as you can absorb someone else's fears, you can also project your fears on to someone else.  My son recently told  me  about a decision that he made and my initial reaction was to tell him no, he should not do it.  However, my son was very confident about his choice and I had to stop and check myself and ask whether it was my fear that I would be passing on to him.
My son was not at all fearful so rather than projecting my fears on to him and sowing a seed of doubt in his mind, I left it and told myself that my son is confident with his decision so I too should be confident in him.
Sometimes without even realising it, other peoples' fears can hold us back from achieving our full potential.  We absorb the fears of others who we see as only having our best interest at heart.  Whilst it is true that they believe that they have our best interests at heart, those fears could be holding us back form achieving something great in our lives.
When I decided to make a mid-life career change and become self-employed after being an employee for almost 28 years, some of the people around me could not understand why I was doing it.  They thought that I was in a good job, only had 16 years to go until I could get my pension and I knew what money I had coming in every month.
It could have been easy for me to become absorbed by those fears and let them stop me from doing what it is that I really wanted to do.  I had to look beyond that and have a strong faith and belief that things will work out and I can honestly say that I have no regrets.
When you are hesitating about making a decision and after discussing it with those close to you, you find that you are fearful about making the decision, stop and ask yourself whose fear is it?  Talk to someone who is detached from you and the situation or who will be able to look at things objectively.
A coach will be able to help you work through your fears, help you to see where they are coming from and help you to determine what it is that you really want.
Have you ever let someone else's fears stop you from doing what you want to do?  Have you ever put your fears on to someone else when they have asked for your advice?  Please add your comments below.
If you want to overcome the fears that cause you to lack the confidence to do what you really want to do, book a place on my workshop for women taking place on 26 August, 2014.  Book your place here.
You can read further blog posts here