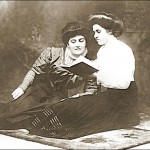 Marissa Mayer the CEO for Yahoo has defended her decision to ban home working for Yahoo employees.   Her justification is that while people are more productive when they're alone, they are more collaborative and innovative when they're together.  The article regarding this can be read here.
The decision to ban homeworkers which comes in to force in June, has caused a lot of uproar not only amongst Yahoo employees but amongst the general public, including the likes of Richard Branson.
It would seem that despite the leaps and bounds that have been made over recent years regarding flexible working patterns, Yahoo has turned back the hands of time and reverted to the 20th century in the way that they treat their employees.
The decision was made after Mayer found that remote workers were not logging in enough to the company's network.  Whatever happened to trusting the people that work for you to do the job that they are paid to do?  If it was the case that not enough people were logging in to the network, surely this should be addressed with the individuals concerned and not penalise the whole workforce.
Imagine if this decision was to be replicated amongst other organisations that currently offer home working, what would be the implications amongst their employees, in particular women?  Having the opportunity to work from home can be very beneficial to women who today are still the main carers for both children and elderly parents.  Home working enables the working day to be fitted around school runs and other needs/activities, allowing for a better work/life balance in the quality of time that women are able to spend with their families.
Mayer who became a mum herself last year  has the luxury of an en-suite day care nursery attached to her office.  How many of the Yahoo workforce are afforded this luxury?  What makes this a harder pill to swallow is that this decision is coming from a woman AND a mother herself.
In response to what has been cited regarding a lack of innovation when working in isolation, Richard Branson  has never worked out of an office.  For someone who has gone from a market stall to arranging for people to travel to Mars, with a multitude of other businesses in between, I don't think you can get more innovative than him.
I agree that as human beings we do need to feel a sense of community and belonging which can be gained from being around people in the office but if a homeworker attends the office periodically, this allows for this need to be met (I am sure that they meet this need in other ways in any event).  Plus with the advance of technology it means that people can meet virtually from anywhere in the world.
So what do you think of Marissa Mayer's decision to ban remote workers at Yahoo?  Is this the way forward for working in the 21st century, or is it a step back in time?  I am interested to hear your thoughts.
You can read further blog posts here