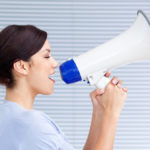 Self promotion is a leadership skill and is important for making others aware of your expertise and credibility. It is how you sell your ideas, your products and services. It increases your visibility and makes others aware of your work, your business, your department, your organisation. It is how you can make others aware of your value proposition, the value of what you have to offer.
Despite this, many women shy away from self promotion. They see it as self serving and the thought of it makes them feel like they are bragging and boasting. Having been brought up not to brag and boast, promoting themselves feels uncomfortable and doesn't feel right. I particularly find that introverted women hate self promotion with a passion.
But how will other people know how good you are at what you do if you don't tell them?
By not promoting yourself you are doing yourself and others a disservice. By not demonstrating your value proposition, you are denying others the opportunity of tapping into the value that you offer. This is whether you are an employee or an entrepreneur.
By not promoting yourself, you are denying yourself opportunities to further your career, leadership or business.
By not promoting yourself, you may be denying those that need your help, the opportunity of getting the help that they need.
Besides, if you don't do it, who will?
In this 90 minute session, I will help you to remove the fears and blockages you have regarding promoting yourself.  In particular, you will learn how to: -
Be confident with your authentic self
Self promote without bragging or boasting
Raise your profile and be seen as a person of knowledge and expertise
Who is this for?
This is for you if you are a woman who wants to take your career or business to another level and recognises that in order to do so you need to raise your visibility and self promote, but the thought of self promoting makes your stomach turn.
This session is a recording of a live session, meaning you not only benefit from the training and the exercises, you also benefit from the learning gained through the discussions with the participants who attended the live event.
The session comprises of slides and audio recording in MP4 format and comes complete with a worksheet.