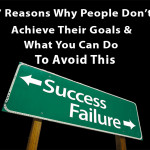 This is a digital product, you will be able to download it instantly after purchasing.
Every year at the beginning of January, I see untold people setting goals or making New Year resolutions, only to find that within just a few months (weeks even), they've abandoned them.
As humans, we are goal oriented, always striving to achieve something. Goals are essential to giving our lives meaning and purpose otherwise without them, we would wander through life aimlessly.
But what makes it easy for some of us to constantly achieve our goals, whereas some of us always give up at the first hurdle?
In this 90 minute session, I share 7 common reasons why people don't achieve their goal, with a focus on the 7 following areas: -
**Self Doubt
**Overwhelm
**Lack of purpose
**Losing motivation
**Shiny objects (distractions)
**Vagueness
**It's someone else's goal
You will gain an understanding of why people are affected by these and what you can do to avoid them and I will give you practical tips that will help you to achieve your goals going forward.
This session is a recording of a live session meaning that you not only benefit from the training and the exercises, you also benefit from the learning gained through the discussions with the participants who attended the live event.
The session comprises of slides and audio recording in MP4 format and comes complete with a worksheet.