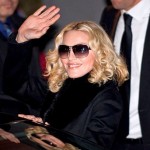 Love her or hate her, one thing you have to admire about Madonna is her ability to continue reinvent herself so that she constantly remains relevant.
I remember when Madonna burst onto the airwaves with her hit single 'Holiday'.  As a teenager at the time, to me this signified girl power, sending out the message that girls could be bold, courageous, confident and out there.
Over the years there have been many a controversial headline about Madonna but what I admire about her is her tenacity, authenticity, confidence and courage to be what she wants to be and not to be defined by what 'society' says she should be.
At the age of 55  Madonna is still making headline news and only yesterday the Mail online published an article about her flashing her ample cleave whilst laughing at all her haters. You can read the article here.
There are several lessons that can be learned from Madonna that you can apply to your career or business. Here are 3 of them:-
1.  Keep yourself relevant
If people didn't like Madonna, she would not have had such a successful music career spanning over 30 years. She does not allow herself to grow stale and constantly reinvents herself to keep herself marketable.
You too should keep yourself marketable and keep your skills up to date.  This enables you to embrace change and move with the times as opposed to fighting it.
2.  Don't be fearful
Madonna comes across as very confident and courageous and nothing stops her going after what it is that she wants. Develop the courage to do all that you need to do in order to achieve your full potential.
3.  Be yourself
She does not put on airs or graces, whether you like her or not she does not change who she is in order to please others or because that is what she needs to do to achieve success. She is simply herself.
Be your authentic self and be true to who you are.  Don't feel that you have to behave like someone else or be something that you are not in order to be successful.
So, like Madonna, keep yourself relevant, keep yourself marketable and go and claim the success you deserve. Below are a couple of events that will help you to do this.
---
Get more clients saying "yes!" without being pushy
Do you want to get more clients saying yes without being pushy? Catherine Watkin is the guest speaker at April's Ladies Business Brainstorming Club and was one of my business mentors.  She will be showing the group how to sell in a way that is authentic.
When I first set up my business, I used to hate selling. Coming from employment, this was not something I had previously done.  But then I met Catherine...  Working with Catherine enabled me to sell my services in a non pushy, authentic way and see my business grow.
Come and hear about Catherine's technique on Tuesday 29 April 2014 and reinvent yourself so that you too can learn how to get more clients saying yes without being pushy.  Register for your place here.
Being able to sell authentically is not just applicable for business owners.  When you are changing career or climbing the corporate ladder, being able to 'sell' yourself authentically is very essential.
---
Create the life that you really want
If you are serious about reinventing yourself and want encouragement, motivation and the tools to do so, I have teamed up with other expert coaches and mentors to put together 'My New Life'. This is an empowering, inspirational evening of learning that will help you to create the life you really want.
The event takes place on Tuesday 20 May 2014 and you can register for it here.
You can read further blog posts here
Photo by Siebbi (Madonna @ Berlinale) [CC-BY-3.0 (http://creativecommons.org/licenses/by/3.0)], via Wikimedia Commons